Can iMovie open Nikon 60p H.264 MOV video files natively
What to do if iMovie refused opening your Nikon J4 movies in MOV recording format? In this post, we are going to introduce a workaround to make iMovie work with Nikon 1 J4 footage by transcoding Nikon J4 MOV to Apple's InterMediate Codec.
The J4, Nikon'slatest 1-series mirrorless camera, offers superior performance with tracking of moving subjects with the world's fastest continuous shooting with AF tracking, and excellent image quality that makes full-scale photography possible. With the latest Expeed 4A imaging engine, the CX-sensor camera can now pump out 20 images per second in burst mode. The Nikon 1 J4 also features ability to record 1920 x 1080/60p full-HD movies up to approximately 10 minutes in length with built-in vibration reduction function, and saves video files in H.264/MPEG-4 AVC compressed MOV wrapper.
In our understanding, Mac users should be able to import J4 movies recorded in the MOV format to iMovie at a high speed without the need to transcode files into intermediate formats such as Apple InterMediate Codec for editing. However, for some reason, users still have troubles while editing J4 media within iMovie. Let's see a user question, "Hey, all, I received a Nikon J4 camera as a birthday gift last week, but now I have a question about it. I recorded some 16:9 HD movies in 1920 x 1080 resolutions at 60p (59.94 fps), I intended to edit these footage in iMovie on my iMac which runs Mac OS X 10.9.2. Unfortunately, it seems that iMovie doesn't read the J4 60p videos at all. Can anyone have any idea about this? Any suggestion is welcome. Thanks in advance."
If for some reason iMovie doesn't work with Nikon J4 MOV, we would recommend that you convert J4 movies to an intermediate format such as Apple InterMediate Codec for editing with iMovie. Considering the ease of use and optimal output files for use in iMovie, we would recommend Acrok HD Video Converter for Mac to do format conversion.
Download a free trail of Acrok HD Video Converter for Mac
How can I import and edit Nikon J4 60p MOV in iMovie?
As mentioned above, to be able to open Nikon J4 60p MOV in iMovie, you will need to convert J4 footage to AIC for iMovie. To do format shifting, follow these steps:
1. Install and run HD Video Converter for Mac as a Nikon J4 Video Converter. When its main interface appears, click 'Add Video' to load your MOV files to the program.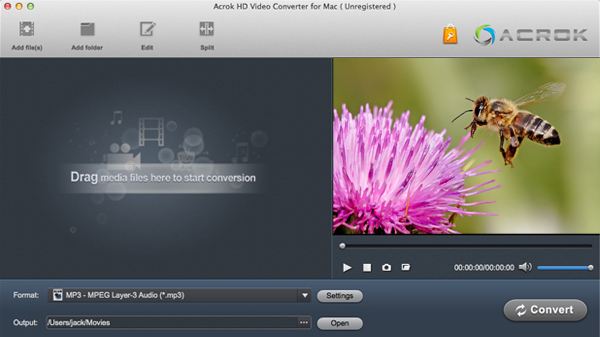 Tip: If you are FUJIFILM user, you may need FUJIFILM Video Converter to transcode FUJIFILM digital camera footage on Mac and Windows. You can free download FUJIFILM H.264 MOV Converter from www.acrok.com.
For editing J4 video in Premiere Pro and Final Cut Pro without any problem, this J4 Video Converter can help you convert Nikon MOV to Adobe and Apple editing software supported videos.
2. Select output format for iMovie
To create editable files for iMovie, from the Format bar, choose 'Apple InterMediateCodec (AIC) (*.mov) as output format from 'iMovie and Final Cut Express' column. Note that the AIC codec is also accepted by Final Cut Express and Final Cut Pro (HD 4.5 through 5), but rarely used in Final Cut Pro as of Version 6 since it now uses the ProRes codecs instead of the Apple Intermediate Codec.
3. Click 'Settings' button and go to 'Profile Settings' window to custom video and audio settings. (for advanced users)
4. When ready, click 'Convert' to start transcoding Nikon J4 MOV media to AIC – the best suited editing format for using within Apple iMovie.
5. When the conversion process is done, click on 'Open' button to get the generated AIC QuickTime files and open them in iMovie to create your own masterpieces.
Tips:
MXF to Premiere Pro CC-Edit MXF in Premiere Pro CC
Edit Sony HXR-NX5U AVCHD/MTS in Premiere Pro CC/CS6/CS5/CS4
Convert PMW-100 MXF to ProRes MOV for FCP X
Convert PMW-150 MXF to ProRes MOV for FCP X
Sony NEX EA50UH and iMovie/FCE workflow
Import and edit Sony Alpha NEX-3 AVCHD/MP4 in FCP X/7/6
Watch AVCHD/MTS on iPad Air
Panasoniv AF100 AVCHD/MTS to Premeire Pro CC
Import edit MKV in Premiere Pro CC