Convert XAVC to Premiere Pro CS6 supported video codec
The XAVC format is produced from Sony camcorders (PMW-F55 and PMW-F5), which is not yet widely adopted on the market. Some guys have shared some tips to import the Sony XAVC file to Premiere Pro directly if you are also planning to have a post production on the PMW-F55 (or PMW-F5) XAVC footages in your Adobe Premiere editor software.
How to import the Sony XAVC file to  Premiere Pro directly
Preparation:
1. Adobe Premiere CS6
2. On Mac: XAVC codec needs to be installed, such as FCP and Compressor. It can enable you to work with XAVC in HD, though not 4K.
On PC: Main Concept/Rovi Total Code plug-in needs to be installed. It can enable you to work with XAVC in both HD and 4K.
With the help of the Media Browser which is usually located in the lower left corner, you can locate your XAVC videos easily. Then click the XDROOT folder to import your XAVC videos to Adobe Premiere CS6. For PC user, you may need help with the Main Concept plug-in for XAVC HD 4K. To import clips, either right-click on the clip and choose Import, or select a clip(s) and go to File -> Import from Media Browser.
However, owing to the computer configuration, operating environment and software version, a lot of users still can not import the Sony XAVC videos into Adobe Premiere. They met the importing or the crash problem while loading Sony XAVC files to Premiere Pro.
"I have some F55 XAVC footage I'd like to use in Premiere Pro CS6. Seems that it's still unsupported? Am I missing something or is this still unsupported? Wondering if anyone can help. PLEASE HELP!!!"
"Trying to get 1080p XAVC footage from an F5 to work in Pr CS6 (Mac). It imports, but when I try to do anything with it, it crashes. Does anyone know what I can possibly do???"
Then where should they go? In order to edit Sony XAVC 4K videos in Adobe Premiere Pr smoothly with the best original video quality. You need to find a best 3rd party program to transcode your footage first. Here Acrok HD Video Converter is highly recommeded to you. It is not only professional on dealting with Sony XAVC files, but also can handle with other video formats, such as MXF, MTS, MP4, MOV, MKV and so on. (PS: If you are a Mac user and want to edit XAVC videos in Adobe Premiere/FCP/iMovie on Mac, then Acrok HD Video Converter for Mac is fit for you.)
Download Sony XAVC Video Converter:
How to Convert Sony XAVC for Premiere Pro CS6
Step 1: Drag and drop the XAVC files to the Converter you have set up just now.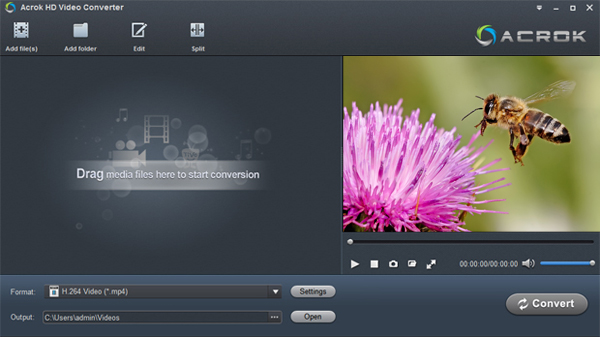 Step 2: Choose Editing software > Adobe Premiere/Sony Vegas MOV (AVC) (*.mov) as the best video format for editing Sony XAVC in Adobe Premiere Pro CS6 as well as good video quality.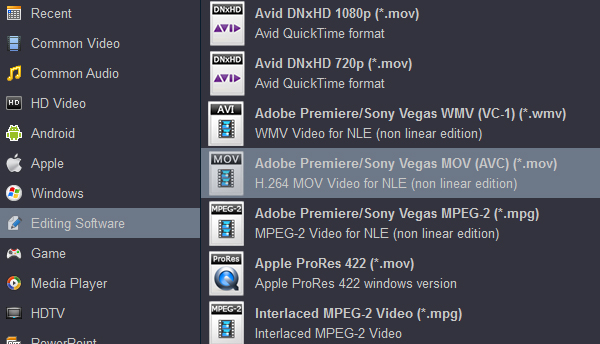 Step 3: Adjust the video and audio parameters, including the Bitrate of Video&Audio, Video Size, Sample Rate, Frame Rate, Audio Channels, etc., by clicking the Settings button on the main interface for getting the best quality.
Step 4: Click the arrow button to start transcoding Sony XAVC to MOV(H.264) for Premiere Pro CS6.
After the process completes, click "Open" button to find the generated videos, and then you can transfer the recordings to Adobe Premiere easily and quickly.
Tip: If you want to get MPG (MPEG-2) codec video for your Premiere Pro CS6, you can choose Adobe Premiere/Sony Vegas MPEG-2 (*.mpg) as output format.