Edit H.265 videos in FCP X via ProRes codec
Import MP4 files to FCP X with audio only, you can fix this problem and get the best workflow of MP4 files with FCP X with the tool offered below.

My daughter and I have just downloaded the trial version of FCP X and am running into an import problem. All his footage are recorded in 4K MP4 format on an SD card. When we try to import the Samsung NX500 4K videos from the SD card, they appear in FCPX as a black clip with audio only. I've looked around online and it seems that some other people are having the same issue and are saying that you have to buy a converter software. It seems to me that — for $300 — this software ought to be able to handle the most common video format that exists.
A. What am I missing?
B. How can I resolve this?
Thanks in advance for your assistance!
FCP X supported file formats and camera/camcorder
Before going any further, first have a glance at FCP X supported file formats and camera/camcorders.
Final Cut Pro X – Technical Specifications
If the MP4 format you try to load into FCP X are included in FCP X supported file types or are recorded by FCP X supported cameras/camcorders models, you will then have no problem to import MP4 into FCP X, if not, you will need to perform a codec transcoding process.
Note: Final Cut Pro X doesn't support H.265, XAVC S MP4 format well
Best workflow of H.265 with Final Cut Pro X
If you are looking for a high performance and high quality workflow of H.265 codec with Final Cut Pro X, you are then recommended to convert H.265 to FCP X best favorable editing format – Prores codec (422/4444). No matter your MP4 files are encoded with highly compressed codec with limited full quality or uncompressed 4K codec that has high requirements for bandwidth and raid-storage, you can use this beneficial Prores codec to maintain the highest quality and performance while requiring much less expensive editing and storage hardware.
To produce Prores codec, you can download H.265 Video Converter, which has enhanced media compatiblity with all H.264 files encoded with various different video and audio codec, you can easily generate Prores in different types from MP4 for best editing with FCP X. If you have no idea how to choose the proper Apple Prores codec for post editing, just have a reference at the following content.
Besides H.265 MP4, you can also use this MP4 to FCP X Converter to convert other compatible file formats such as AVI, MXF, MTS, WMV, MOV, MKV, etc into FCP X best compatible editing formats.
Howto transcode H.265 to Prores for importing into FCP X
Step 1: Load H.265 videos
After transferring the H.265 footage from your device to your local drive, launch the H.265 to ProRes Converter on your computer, click "Add Files" to add H.265 or ther codec files to the software.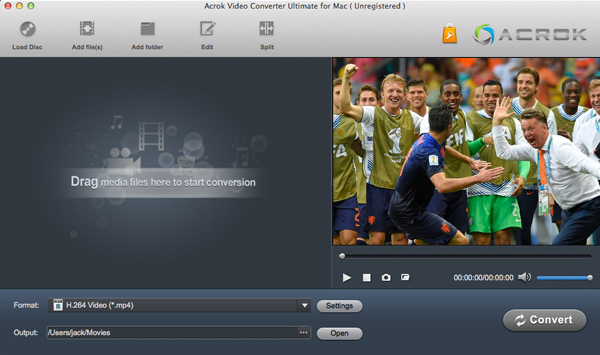 Step 2: Choose output format.
Click "Format"bar, from its drop-down list, select "Final Cut Pro"> "Apple Prores 422(*.mov)"as your desired output file formats for working with high performance computer, for slow computer, just choose "Apple Prores Proxy)(*.mov)"or "Apple Prores (LT)(*.mov)"format.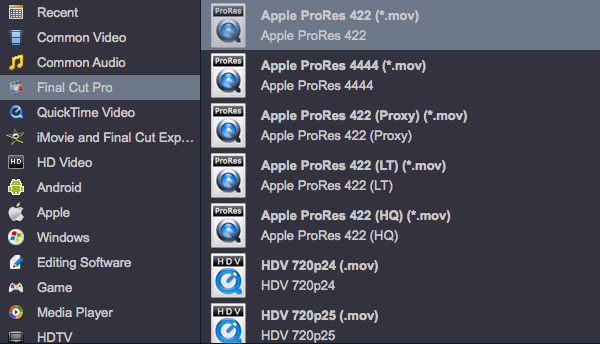 Step 3: Convert H.265 to Prores codec.
Go back to the main interface and press the "Convert" icon on the right-bottom to start H.265 to Prores codec encoding process. When the conversion is done, you can easily import converted files to FCP X for furthering professional editing.
Related Guides:
Free GoPro Hero 6 Video Editor – Edit GoPro Hero 6 for uploading to YouTube
Moto G6 iTunes – Convert iTunes M4V movie to Moto G6/Plus/Play supported formats
Play iTunes movies and music on Galaxy S9 Plus
Rip and convert Blu-ray movies to iPhone 8 supported formats