Free MTS Players for Mac and Windows
In this article you will best the best free MTS player for Mac and Windows 10, and then you can play Sony, Panasonic, JVC and Canon camera recorded MTS videos smoothly, you will also get the best MTS converter which can help you to convert the MTS video files.
MTS is a popular video format used by Canon, Sony, Panasonic and JVC cameras and camcorders, this video format can help you to store HD data with high quality, so it's an excellent format for recording. Maybe you have got a camera and recorded some videos in MTS video format, how to play these MTS videos on Mac and Windows 10? As we know, MTS format is an advanced format that many video players can't support it, to play MTS videos on Mac with QuickTime or Windows media player, you'll need a third-party software to help you to play or convert videos to compatible format, if you're running into MTS playback issues on your Mac (Mavericks & Mountain Lion included) or Windows 10 and still have no clue, try these free MTS players for Mac and Windows.
1. Free MTS Players for Mac and Windows 10
Acrok MTS converter for MAC and Windows can run as the free MTS player for you. As one of the most popular video players, Acrok MTS converter ensure smooth playback of MPEG, VOB, MTS, ASF, WMA, WMV, VIVO, QT, MOV, MP4, OGG, OGM, RealMedia, Matroska, NUT, NuppelVideo, etc. nearly all the video formats are supported, with it you can play MTS videos on your Mavericks or Mountain Lion or Windows 8.1/7 without any trouble.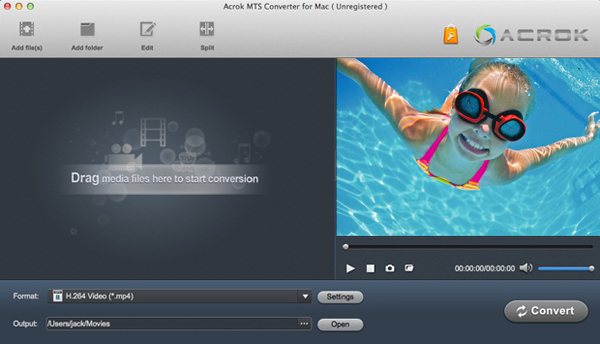 If you usually play MTS videos with a couple of players and on different devices, you may get involved in MTS playback issues for not every video player can play MTS video files and not every device natively supports MTS playback. To watch MTS videos anywhere with any device, try Acrok MTS converter as you want! This best MTS converter for Mac/Windows not only enables you to convert MTS to MP4, WMV, MOV and more on Mac, but also performs popular conversions like MKV to MP4, MKV to MOV, WMV to MOV, M2TS to MOV, and more on Mac.
What makes Acrok MTS converter so useful and special?
1. It can convert all the HD video formats to any format you need, it will help you to break playback restriction among different players and devices.
2. Enable you to make tough video formats like MTS, XAVC, AVCHD, MXF, and more editable in video editing systems like iMovie, FCP X, FCE, etc. you can follow the link to convert MTS to FCP X, convert MTS to DNxHD for Avid.
3. Easy to extract and save preferred audio and video clips from any audio and video files.
4. You can edit the MTS videos with this best MTS player/converter, it can trim, crop, add watermark or change the video effect for you.
2. VLC player
If you like playing many different videos, you can also try VLC player, this powerful player can also help you to play some MTS videos for you, besides it can play some popular video formats for you, such as MP4, AVI, MOV, etc. Why is the VLC player so popular? And why will everyone choose VLC as the essential software for media playback? Good stuff is always worth your choice. The most outstanding feature is that it plays almost every media format. But there are still a lot of hidden features of VLC you may not know. For example, it allows you to add subtitles to the movie. Go to fetch the VLC for Mac to play your MTS files easily, with it you don't need to worry about MTS video playback issue anymore, you can follow this link to learn VLC MXF playback as example.