How to copy Blu-ray to computer hard drive
This article will rescue you from Blu-ray publishers' barrier by one simple and reasonable method: Copy Blu-ray to Hard Drive! So that you can enjoy Blu-ray movies without ever having to get off your couch to drop a disc in your Blu-ray player.
"I have quite a good collection of Blu-ray movies which I felt I should save on my hard drive for a safe storage. I want to rip them for storage – I prefer digital versions that last longer and are more portable, than physical disks"
Have you ever had the same need as above? With the advent of the era of high definition videos, blu-ray, as the representative of high definition movies, spreads widely. It is a big deal to take care of such an enormous blu-ray collection. So a lot of collectors may consider the digital copy of blu-ray as the optimal way for safe storage. That is exactly a good idea. Let's see some benefits of digital copy:
Safe: The physical disk is easier to being scratched or ruined especially when you have little lovely child at home. Every time when you play it in your player, a little damage will happen to the disk. However, the digital copy will last longer and can be played again and again without being ruined.
More accessible: The blu-ray disks will need more physical space for storage and maybe you should have a store room for it. When you want to watch one of them, you need to rummage through all the blu-ray collection for the desired one. Copy or transfer Blu-ray to computer hard drive is simply for creating digital backup of your BD disc. It will prevent your Blu-ray from scratching, cracking and other physical damages even lost. Do you know there are more than 80% Blu-ray owners will make backup of their Blu-ray disc? So you need if you have Blu-ray.
More portable: The digital copy occupies little physical space and you can put then on your hard drive or take them with you in your tablets (iPad Air, Surface 2, Kindle Fire HDX, Galaxy Tab 3, LG G Pad, Nexus 7) or smartphone (Galaxy Note 3, Nexus 5, Galaxy S4, iPhone 5S, Moto X, Xperia Z Ultra) anywhere. So you can watch them whenever you want to. Once you backup the Blu-ray movie on computer hard drive, you are set free to all kinds of other neat stuff with it, such as transcode Blu-ray to HD MP4, M4V, MOV, MKV and other format so you can watch it on a handheld digital media player, or delete those annoying messages from the FBI and Interpol messages warning you of the penalties for doing what you want to do.
Now take action to get the digital copy of blu-ray. What you need is a powerful tool for ripping Blu-ray movies. Aovsoft Blu-ray Ripper is a professional program in making digital copy of Blu-ray. It can rip the latest 3D/2D Blu-ray and DVD and convert to various video formats for some popular smartphones and tablets as well as editing software. Simple interface and CUDA acceleration will bring you an easy but effective conversion. The following guide will show you detailed steps.
You can have the trial versionto try all the functions firstly, and then download the retail version to install it. (Mac users go to get Aovsoft Blu-ray Ripper for Mac).
How to copy Blu-ray to computer hard drive?
1. Import blu-ray source.
Inster Blu-ray disc into BD room. Click load Blu-ray icon to import the inserted blu-ray. After few second, it will be imported successfully and you can preview the whole movie in the preview window.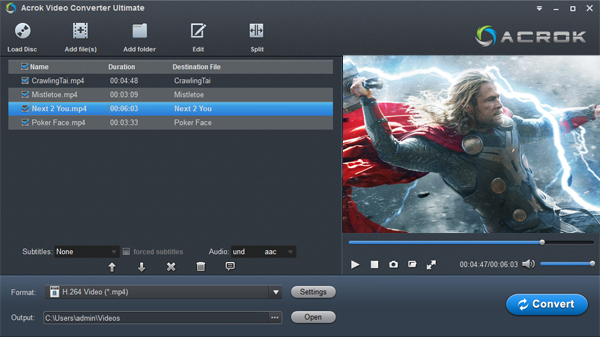 Tip: You need to select the subtitle and audio track for output. As blu-ray movie contains multiple audio and subtitle tracks, you could choose your favorite one for output.
Note: Force subtitle can be checked for output so as to help you to read the unknown language and fully enjoy the blu-ray.
2. Choose output format.
This best Blu-ray ripping software can help you convert Blu-ray/DVD to any video format. MP4 is a common video format, you can play MP4 on any Android, Windows, IOS devices. Click "Format" menu to select output format there. A variety of options are listed such as many portable devices, video editing software, various HD video formats, etc. Choose the one you desired. For getting HD MP4 video, youcan choose "HD Video" > "H.264 HD Video (MP4)".
Tip: You can find the "Directly Copy" option there. It will support to backup 100% intact the blu-ray main movie with all multiple tracks preserved. And you will get one M2TS file for output. If you want to backup blu-ray, it is a good choice for you. By the way, if you want, you can adjust output video and audio parameters according to your own needs. You can change bitrate, frame rate, channels, etc. Click "Settings" button to set output profiles.
3. Rip Blu-ray on Windows or Mac
Now it's time to start conversion. Click big Convert button on the interface and then you will get a conversion dialogue box to show the exact progress, like time left, estimated size, state and so on.
Note: If you are bothered about waiting for conversion to finish, you can choose to check "shut down computer after conversion". Then just let it alone, you are free to go out to do anything you like.
4: Get the ripped Blu-ray movies
When the Blu-ray to MP4, MOV, MKV etc gormat conversion is done, click "Open" button to get the converted video files. Now, you can play Blu-ray movies on any devices freely.