How to Get Premiere Pro working with .MXF files without problems?
The article focuses on assisting you to convert MXF to Premiere Pro file on Mac so that you can import MXF files to Premiere effortlessly.
It's really a big boost that Adobe Premiere Pro CS5, CS6 offers much better native MXF support than its predecessor. However, different source files work differently in Premiere Pro. Many MXF to Adobe Premiere Pro issues still exist there and troubled the users:
Q1: "Hi, I just got a Sony PMW-350K and I am learning how to edit files and make movies using Adobe Premiere CS6. I see some tutorials that recommend converting the .mxf files to Mpeg-2. What apps should I get?"
Q2: "One of our client has provided us around 50 .MXF files from his videographer and we are new to MXF format files. We tried opening it on our VLC player, but the files dont play. When we import it to Premiere Pro, I get a message that reads "Codec not supported", why?"
Q3: "I have a Canon XF100 HD camera that outputs MXF files. I have CS5 Premiere Pro (on a PC) that does not import those MXF files. What should i do to make it readable in CS5? "
To achieve your goal to edit MXF clips with Premiere Pro without problems, below is simple tutorial to make it smoother to get those .MXF files to Premiere Pro for post-production. So here is what you need to know specifically:
1. What is the best format for editing video in Premiere Pro?
We have made some searches ,and found that the Adobe Premiere Pro can edit the file formats of .mpeg2, .mov, etc. So, converting MXF file to MPEG-2 for Adobe Premiere Pro editing is a best choice.
2. Since MXF does not import into PP, what program should you have?
Here we recommend the easy-to-use yet professional application Aovsoft MXF Converter for Mac. Just download it and follow the simple steps below to transcode MXF for Adobe Premiere Pro editable format. P.S. For Windows user, please get Aovsoft MXF Converter.
Converting MXF files to edit in Adobe Premiere Pro
Step 1. Import MXF videos to the software
Once run the Aovsoft Mac MXF to Premiere Pro Converter, you can click "Add Video" button (or "Add from folder") to load MXF source files. Convert supports batch conversion, so you are allowed to add multiple files to convert at a time.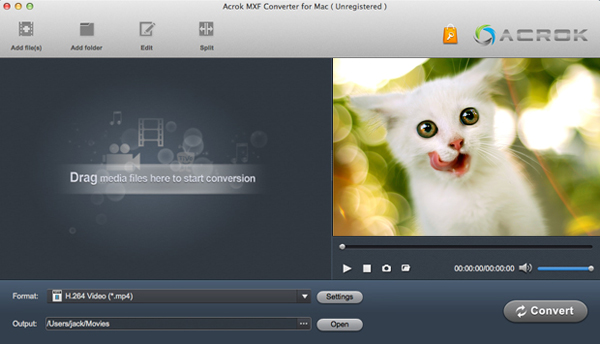 Step 2. Choose a best output format
Click "Format" drop-down bar to select a proper video format. To edit MXF videos in Adobe Premiere, then Adobe Premiere/Sony Vegas > MPEG-2 (*.mpg) is the suitable one.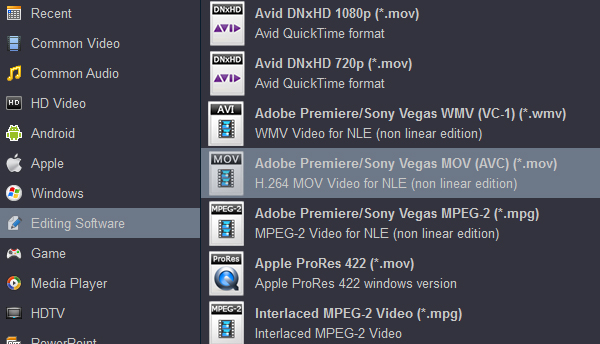 Tips – Adjust audio and video settings
The Mac MXF Converter enables users to adjust audio and video settings before transcoding MXF files to MPEG-2. Click "Settings" button, then you will enter the following interface, on which you are allowed to customize size, bit rate, frame rate, sample rate, and audio channel to your required ones.
Step 3. Start the conversion process
Click the "Convert" button to start transcoding MXF to MPEG-2 for Adobe Premiere Pro.
When the conversion is finished, you can click "Open" button to get the generated MPG files effortlessly. Launch Premiere Pro on your Mac, choose "File > Import to import converted MXF files in Adobe Premiere Pro for further editing.
1. I love this MXF converting software. It helps me solve the big issue of transcoding recording MXF files to FCP. And I'm satisfied with the output video quality. – Jason
2. This Aovsoft MXF Converter for Mac can successfully convert the MXF file recorded by my Panasonic P2 to iMovie MOV video. Then I can edit it easily. – Mavis
For MXF Converter
1. So wonderful software, I like it very much. It can help me transcode the MXF recording to the Adobe Premiere for editing. – Hanson
2. With your MXF Converter tool, I don't worry about importing my P2 MXF file to my Sony Vegas any more. And also I can edit my file with your tool.. – Ellane
Supported Hot MXF Camcorder Model:
Panasonic: AJ-HPX3700, AJ-HPX2700, AJ-HPX3100, AJ-HPX2100, AJ-HPX500, AJ-HPX371, AJ-HPX250EJ, AG-HPX371, AG-HVX201, AG-HPX171, AG-AF101, AG-AC160EJ, AG-AC130EJ, AG-HMC81, AG-HMC151, AG-HMC41, AG-AF100, AG-HVX200A, AJ-HPX370, AG-HVX200A, AG-AF100, AG-HMC40PJ, AG-HPX250, AG-HCK10G;
Canon: Canon XF100, Canon XF105, Canon XF200, Canon XF205, Canon XF300, Canon XF305, Canon C300, Canon C500;
Sony: Sony PMW-500, PMW-350K, PMW-EX3, PMW-F3L, PMW-F3K, PMW-100, etc.