How to play and watch M4V videos on Galaxy A6/A6 Plus?
The Samsung Galaxy A6 has a few more obvious cuts, made in order to lower the price further. It uses an 18.5:9 OLED screen, but the resolution is just 1480 x 720 pixels, for example. The Samsung Galaxy A6 has a 16MP f/1.7 lens rear camera and a 16MP f/1.9 one for selfies. You can get the phone in 32GB and 64GB variants. The Galaxy A6 Plus ticks some other important checkboxes too – there's a dedicated microSD slot on top of the twin nano SIM bay, a fingerprint reader on the back ensures some security, and a 3.5mm jack means you can connect your choice of headphones. The 6.0″ Super AMOLED, FullHD+ 2,220×1,080px resolution Infinity display is better then it's brother.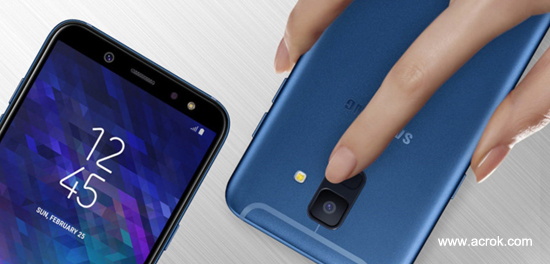 Can I play M4V mvoeis on Galaxy A6 or A6 Plus? Failed to play iTunes M4V videos on your Galaxy A6/A6 Plus and can't figure out why? Most Galaxy A6 and Galaxy A6 Plus users may also want to enjoy iTunes M4V videos on their Android device. But when they have purchased iTunes M4V videos from iTunes Store and try to transfer them to Galaxy A6, it fails. Why?
There is no question that is Galaxy A6 and A6 Plus pretty great. Not only do these devices connect us to the larger world through texting and social media, but they allow us to enjoy pictures, videos, and music at our leisure. Unfortunately, some video formats are just not going to work on your Galaxy A6/A6 Plus. One of these formats is M4V.
What Is M4V?
M4V is a nice video format for a variety of reasons. If you want to have the ability to watch and enjoy M4V videos on your Galaxy A6/A6 Plus, you do indeed have options. But first, let's get into a little background on what M4V actually is.
M4V was created by Apple from MP4 origins. It is used to store a number of different things. One of these is video. While Galaxy A6/A6 Plus naturally supports certain formats, there are quite a few formats it does not support. When it comes to getting around the fact that Galaxy A6 won't let you play and watch M4V videos, you have a couple of options. You can seek out a video player that will allow you to play M4V videos on your Galaxy A6/A6 Plus without any hassle. Your second option is to have the M4V video in question converted into a format that your Android will be able to play.
Media players that can play M4V on Galaxy A6/A6 Plus
Note: Actually, the main reason results in the failure due to iTunes M4V videos are protected by Apple's Fairplay DRM. So, it is limited to playback on Apple devices. Neither iTunes movies nor iTunes TV shows can be directly played on Galaxy A6/A6 Plus.
When it comes to playing M4V videos on Galaxy A6/A6 Plus, there are a number of players out there that you can try:
1. Video Player for Android
The hardware decoding component to this player makes it remarkably easy for the player to find and run videos with optimal smoothness. Best of all, it works with quite a few different formats, including M4V.
2. MoboPlayer
In addition to supporting a wide range of video formats for Android devices, MoboPlayer scores points with consumers for its ability to also offer a variety of subtitle formats.
3. MX Player
When it comes to players that support a variety of video formats, MX Player is roundly considered to be one of the best. One of the best things about this player is the fact that the H/W decoder gives you the ability to utilize hardware accelerating for more videos. You also get a feature that keeps your kids from accidently getting to other parts of your phone.
4. HD Video Player
Looking for a player that is remarkably easy to use? This is one that is well worth a serious look on your part. In addition to the simple interface, the decoding power behind this player allows you to enjoy just about any type of video you want.
How to play all the M4V movies on Galaxy A6?
To get iTunes movies on Android, I'd like to recommend a useful program to you. M4VGO is the best M4V converter on Windows and Mac, it is able to convert M4V videos to MOV, MP4, AVI, WMV, MKV, H.265, or any other formats.
Free download iTunes to Galaxy A6/A6 Plus Converter
1. Load iTunes protected M4V movies
M4VGO only supports the iTunes videos which are downloaded completely on your computer. Please make sure you have downloaded the ones you desired first and then click "Add files"' icon from the iTunes to Galaxy A6/A6 Plus Converter to import them. Or simply drag and drop the iTunes videos to M4VGO.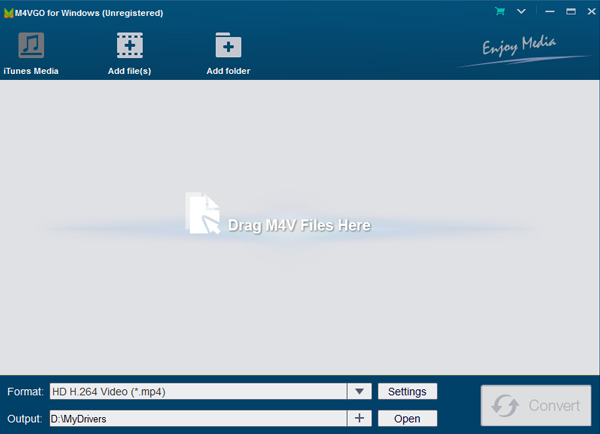 2. Set the video profile for your phablet
Different phablets may support different formats of videos. But usually all of them supports the universal MP4 format. It is highly recommend to select the the default MP4 format so that to ensure best compatibility and lossless quality. Here, H.264 MP4 is your best choice.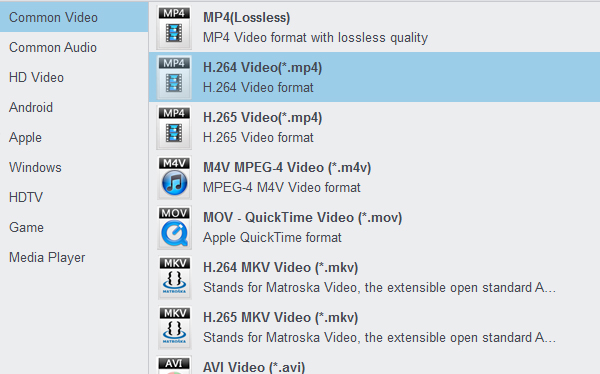 3. Convert iTunes M4V movies
Once you have done the settings you want, you can hit the "Convert" button from the bottom right to start converting. Please just wait a few minutes for it to convert to DRM free videos
After getting the DRM free videos, you can sync them to your Samsung Galaxy A6/A6 Plus. The most direct way is connecting your A6 to your computer via an USB cable. Then you can open the folder of your phablet phone and copy & paste to transfer the videos. Please note that in this way you need to make sure your A6/A6 Plus has enough internal memory. If not, you can try to copy the videos to an SD card and then input it into Galaxy A6/A6 Plus with SD compatibility.
Hot tips for you:
iTunes to Xperia XZ3 – Play iTunes M4V movies on Xperia XZ3
Edit GoPro Hero7 4K videos in FCP X and Premiere Pro CC
Nokia 7 Plus iTunes – Transfer iTunes movies to Nokia 7 Plus
How to play iTunes movies on Galaxy Tab S4
DVD to iPhone XS Max – Rip DVD to iPhone XS Max supported formats
Edit Lumix S1/S1R 4k videos in FCP and Premiere Pro
Galaxy Note 9 iTunes – Transfer iTunes movies to Galaxy Note 9
GoPro Hero7 4K video to Avid Media Composer Workflow