Rip Blu-ray to After Effects CC Supported MPEG-2
Blu-ray is wonderful to watch in Home Theater, that's why so many people love to collect them. Nowadays, it's difficult to find an old classic film in torrent video sites while you can easily get it in Blu-ray if you have collected them. Blu-ray is not just for watching films. You also can extract some interesting clips from Blu-ray After Effects CC to edit and make your personal fantastic video. When you upload this kind of video to YouTube, you can attract more audience.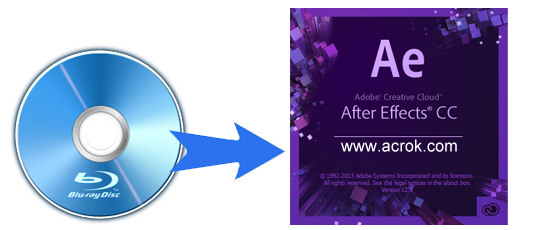 After Effects CC supports Blu-ray BDAV MPEG-2 Transport Stream. So if you want to edit Blu-ray disc video in After Effects CC, you can copy, rip and convert Blu-ray disc to After Effects CC more compatible format MPEG-2, H.264 or QuickTime MOV with some Blu-ray Ripper software. If you have no Blu-ray ripping and copying experience ever, you can read the article and learn the ways.
Best Blu-ray Ripping Tool to Enable Blu-ray Disc Editable in After Effects CC
Acrok Video Converter Ultimate is an advanced and intuitive tool that enables you to copy Blu-ray to M2TS folder for After Effects CC and rip Blu-ray to After Effects CC acceptable MPEG-2, QuickTime MOV, ProRes, H.264 MP4, DV AVI and more with excellent video and audio quality.
Moreover, you can resize the video to a custom width and height or a predefined dimension (e.g. 1280×768, 1920×1080), keep or disregard the aspect ratio, as well as crop and pad the image. It's also possible to split the movie into smaller sizes, as well as to combine multiple clips into a single one. Generally, a Blu-ray film is 120 minutes and we usually don't need to import the whole Blu-ray video to After Effects CC. With Acrok Blu-ray Ripper, you can trim the Blu-ray video to determine the beginning and ending of the video clip. There are more features of Acrok Video Converter Ultimate, you can read its review to learn more about it.
Step by Step to Rip Blu-ray to MPEG-2 for After Effects CC
Step 1: Load Blu-ray Disc
Launch the Blu-ray to After Effects CC application on your computer, click "Add File" > "Load from disc" to Load Blu-ray disc from optical drive. You also can load DVD disc to rip to Premiere pro. When both Blu-ray and DVD exists, the software will load DVD. Blu-ray and DVD ISO images are also supported.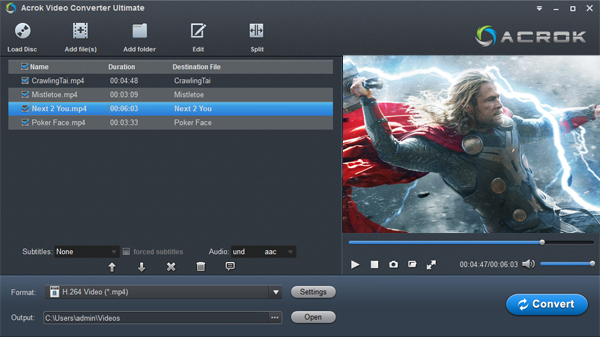 Step 2: Copy and Rip Blu-ray for After Effects CC
Copy Blu-ray to After Effects CC
If you want to backup Blu-ray to M2TS for After Effects CC, you can click "Format" > "Copy" > "Directly Copy" to extract M2TS file from Blu-ray disc.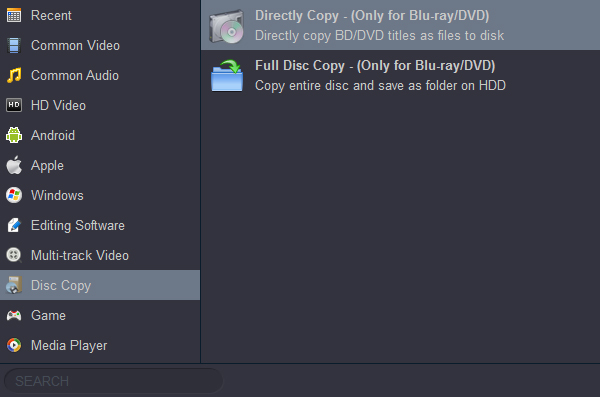 Rip Blu-ray to After Effects CC Supported Digital Format
If you have an old computer, you can directly use the program to output After Effects CC specially optimized editing format "Adobe Premiere/Sony Vegas… MPEG-2(*.mpg)" under "Editing Software" main category.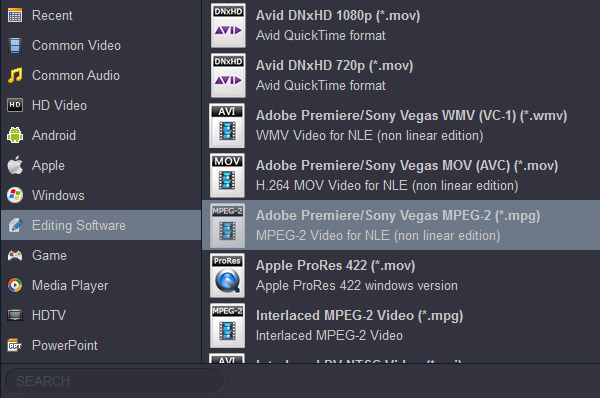 If your computer can perfectly handle HD even 4K video, you can select one of After Effects CC compatible format such as Prores from "Final Cut Pro" > "Apple Prores 422(*.mov)" or "Apple Prores 422(HQ)(*.mov)". Acrok Blu-ray Ripper for Mac even can rip Blu-ray to multi-track ProRes for After Effects CC in "Multi-track" video.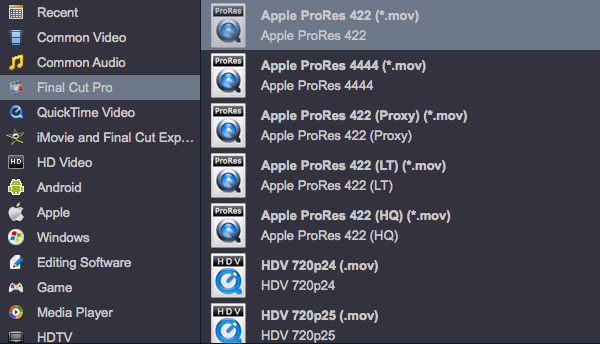 Then, click "Settings" to open "Profile Settings" window to adjust video and audio parameters to make the output video has desired frame rate, bitrate, resolution.
Step 3. Start converting Blu-ray
Click the big "Convert" button in the main UI to begin the Blu-ray to MPEG-2 conversion. You can see your converted videos by clicking "Open" button. Then you are able to import and edit converted Blu-ray footage in After Effects CC all versions without any problem. Enjoy!