Sony PMW-F3 Premiere, edit Sony PMW-F3 XDCAM EX footage in Premiere
The PMW-F3 camcorder is the first compact camcorder to be a member of the legendary Sony CineAlta family. It offers native 23.98P recording using the 'MPEG-2 Long GOP' codec. Well, in this page, we aim to share some tips and tricks for Sony PMW F3 workflow on Mac like how to import Sony PMW F3 EXCAM EX files to Adobe Premiere Pro under Mac OS X smoothly. If you met any Sony PMW F3 footage to Premiere Pro importing or editing issues, go through the page to find the solution.
As it claimed, Sony camcorders are designed to work with a robust production "platform" that includes direct-to-edit operation with major nonlinear editors. The PMW-F3 is no exception. However, there are still some issues existed when importing Sony F3 recordings to Premiere Pro.
"Premiere CS5 says: "Codec missing or unavailable". I was checking forum and google and couldn't find anything about this subject. Anybody works with Sony F3 files on PPro Cs5 ?"
You may wanna get some help from the plug-ins like Sony's Clip browser to create MXF for NLEs. Well, if it can't help you still, there's another solution for you. Since the native XDCAM EX footage can't be ingested to Premiere Pro, you get some help from third-party software MXF Video Converter for Mac; things can be different.
Overall, the program is a professional yet easy-to-use XDCAM EX Converter on Mac OS X, which not only can convert Sony PMW-F3 video clips to MPEG-2 codec videos for Mac editing, but also provide simple video editing functions for you. This Mac Video Converter can also transcode Sony XDCAM EX MP4 videos, or rewrapped MXF files as well as native MXF files from Canon XF, Panasonic P2 cameras for editing in Final Cut Pro 6/7, Final Cut Pro X, Final Cut Express, iMovie, Avid MC, Adobe Premiere Pro, etc on Mac OS X(Mavericks Lion included). If you are Windows users, Windows聽MXF Converter is for you. Just download it and follow the tutorial below to get the work done.
Guide: Transcoding Sony F3 XDCAM EX recording to Premiere Pro
Step 1: Import video files from your Sony PMW-F3 to the Sony XDCAM Converter.
Note: Before conversion, you need to transfer the footage from your Sony F3 SxS card to Mac Hard Drive, then click the "Add files" button to browse and import MP4 videos.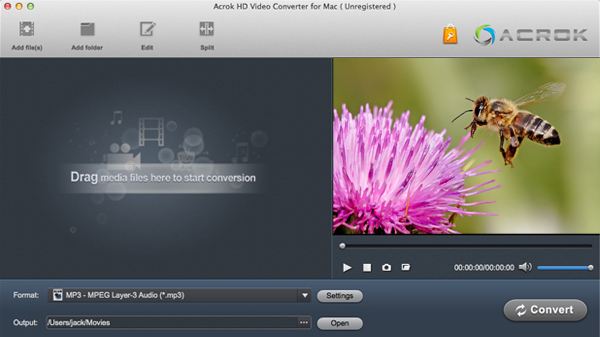 Step 2: Click "Format" pull down list to select Adobe Premiere/Sony Vegas> MPEG-2(*.mpg) as the best video format for Premiere Pro. WMV, MOV formats are the good choice as well.
Tip: In case the default settings do not fit your requirement, you can customize output parameters as you want. Adjust the resolution, bitrate, etc according to your need; you can also keep the parameters as original.
Step 3: Click "Convert" button to start transcoding Sony PMW-F3 video to MPG for importing to Premiere Pro CS4/CS5/CS6 on Mac OS X.
When the conversion Launch Premiere Pro on your Mac, choose "File > Import to import any file with smooth editing.
task is finished, click "Open" button to get the exported files. You're now ready to get the result files into Adobe Premiere Pro to do further editing.