Stream 1080p MKV videos to Apple TV 3 with 5.1 channel
Apple TV 3 supports 1080p videos playback, and the A5 processor will make Apple TV work faster. On this basis, we are allowed to stream higher quality movies to Apple TV 3 for playback on our TV set. However, Apple TV 3 only supports H.264/MPEG-4 .mp4, .m4v, .mov and M-JPEG .avi file formats. This means that common 1080p MKV movie files can't be used by Apple TV 3 suitably. For this case, we have to convert MKV to Apple TV 3 compatible video formats at first. At the same time, people whose Home Theater supports 5.1 surround sound, may hope to keep the 5.1 channel, today, i will give you a perfect solution to convert 1080p MKV movies to Apple TV 3 with 5.1 channel on your Mac OS X computer.
Note:
Only when your movie has 5.1 channel, you will get the real 5.1 surround sound effect.
What software do you need:
Apple TV 3 Video converter for Mac. You may try  this software, it has a special Apple TV 3 5.1 channel preset, and it's the best Apple TV Converter. With few clicks, you will finish the conversion. And the perfect result video quality is also impressive.
Tutorial on transcoding MKV to Apple TV 3:
Step 1. After installation, run the Mac 1080p MKV to Apple TV 3 converter. and click "Add Video" button to load your source files. You can either load your source videos one after another or directly load from a folder. If you are Windows user, you can free download the Windows version Apple TV 3 MKV Converter.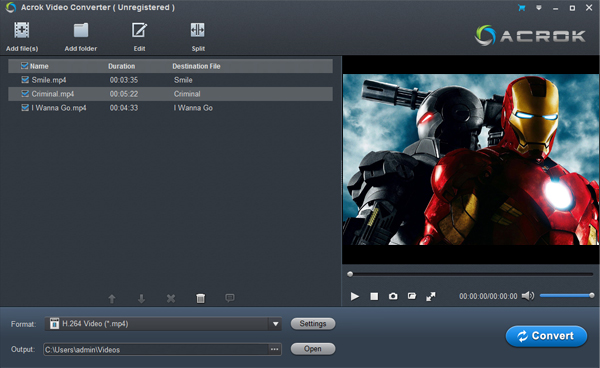 Step 2. Select output format. Click on "Format > Apple TV > Apple TV 3 Dolby Digital Pass-through (*.m4v)", this profile is just what you need. This format will ensure you 1080p quality with Dolby Digital 5.1 surround sound pass-through.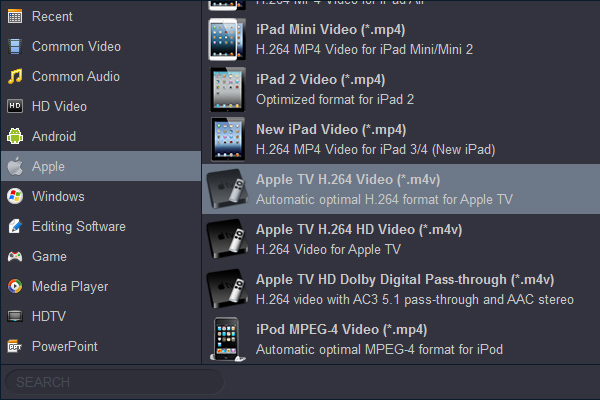 The best video settings for Apple TV 3 1080p video with AC3 5.1 sound:
Tips: When you choosing "Apple TV 3 Dolby Digital Pass-through (*.m4v)" as output, an AC-3 encoded audio track will also be included for Apple TV 3 to Pass-through Dolby Digital 5.1 sound (also know as AC3 5.1), so that it will work in surround sound when Apple TV 3 is connected to audio receiver, and in stereo when Apple TV Gen 3 is connected with TV only. 
Step 3. Start the 1080p MKV to Apple TV 3 conversion by clicking on "Convert" button.
After that, just transfer the converted MKV movie to Apple TV 3 from your mac,  you should know, for streaming media from a Mac or PC, iTunes must be 10.6 or later.