Transcode Nikon D5200 video for iMovie 11, Import Nikon D5200 video into iMovie 11
Nikon introduces the latest D-SLR to its mid-range DX-format line-up, the 24.1 megapixel Nikon D5200, designed to bring out your creative side. From beautiful still photos to smooth Full HD movies, this camera empowers your freedom of expression, letting you capture your own unique view of the world.
However, many mac users have problems to edit Nikon D5200 footage in iMovie 11. As far as i know, when importing Nikon D5200 H.264 clips into iMovie, it will take a long time to transcode h.264 MOV to AIC (Apple Intermediate Codec). This codec is liked by iMovie for editing. But, the transcoding process really makes us frustrating. Is there an easier way to do the process?
The article here will mainly help you transcode NiKon D5200 H.264 MOV video to AIC (Apple Intermediate Codec) for easily importing into iMovie via a powerful h.264 MOV to AIC converter – HD Video Converter for Mac.
To start, you should know the Apple Intermediate Codec is a video codec designed to be an intermediate format in an HDV workflow. It features high performance and quality, being less processor intensive to work with than other editing formats. The AIC doesn't use temporal compression, enabling every frame to be decoded immediately without decoding other frames, although the AIC takes three to four times more space than HDV. The Apple Intermediate Codec (AIC) is recommended for use with all HD workflows in iMovie and Final Cut Express (FCE).
Now, please follow the guide to learn how to convert Nikon D5200 1080p MOV to AIC for iMovie.
Step 1. Download and install the Nikon H.264 MOV to iMovie converter on your Mac. Launch it and import your Nikon D5200 clips into it.
Step 2. Choose AIC as output for iMovie. Click on "Format > iMovie and Final Cut Express > Apple InterMediate Codec (AIC) (*.mov) format."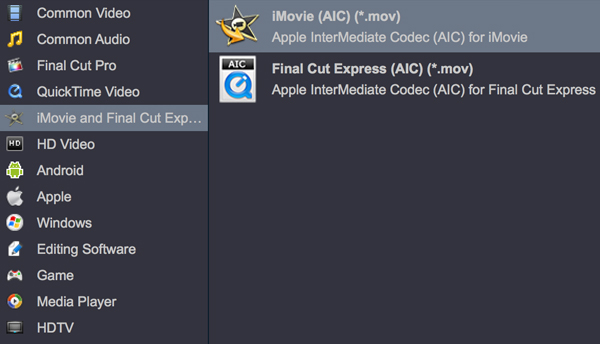 Step 3. Click on Settings to adjust audio and video parameters including video size, video frame rate, bitrate, sample rate, audio channel.
Step 4. Start transcoding Nikon D5200 h.264 MOV to AIC by clicking on "Convert" button.
After the conversion is done, you can easily import Nikon D5200 h.264 footage into iMovie. Hope this article will make the experience of editing Nikon D5200 h.264 mov footage in iMovie 11 easier and faster.Do you got 4K digital cinema camera and have trouble with playing 4K video or movies on HDTV, importing 4K footage to FCP? Here comes with some practical tips for convert 4K video to Prores for FCP editing smoothly, and play 4K movies on Smart TV and HDTV.