How to play MXF files on Mac with best MXF Player
How to play MXF files on Mac with best MXF Player?
1. What is MXF format
Material eXchange Format ( MXF ) is a open-standard container or a wrapper format for digital audio and video media defined by a set of standards defined by the Society of Motion Picture and Television Engineers ( SMPTE ). It has full timecode support and metadata support, which is the just the right feature of digital camcorders like Panasonic P2, Canon XF series to store the capturing videos.
As an improved format, MXF has the advanced workflows and more efficient working practices than are possible with mixed and proprietary file formats available these days. MXF files were designed to streamline workflows between different platforms, such as cameras, digital editing equipment, and servers. And Material eXchange Format ( MXF ) simplifies the integration of systems using MPEG and DV as well as yet unspecified, compression strategies.
2. How to play MXF files
MXF files cannot be accepted by Windows Media Player and Mac QuickTime naturally. If you wanna play MXF files, there are two basic ways to make it. One is to find a mxf player that can supports playing .mxf files as well as be compatible with the Mac or Windows OS. The other ways is to just convert the MXF files to corresponding formats to fit the local media player.
1) VLC Player – play MXF files on Mac and Windows
VLC player is a free and open source media player developed by the Video Lan project. It is a very useful and powerful tool for viewing almost any media formats on multiple computer platforms including Windows, Linux, Mac OS X. Just free Download VLC media player now and play MXF files on VLC with ease.
But here, sometimes VLC cannot play some .mxf files directly, the method is to try an MXF Converter to convert MXF files to AVI, WMV, MOV, MPEG, MP4, etc. for playing freely.
2) MXF File Converter – How to play MXF on Mac or Windows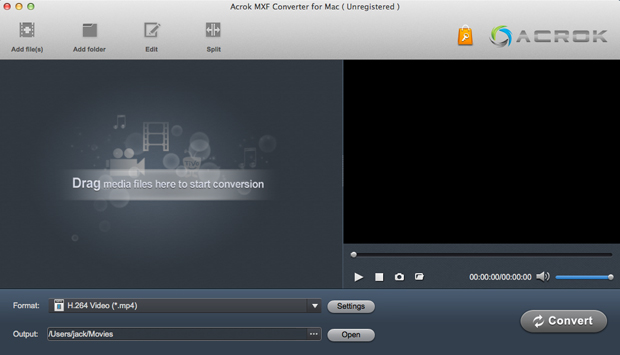 MXF Converter is a professional MXF files Converting tool which features converting MXF recordings shot by Panasonic P2 camcorders, Canon XF series camcorders…to a wide range of formats compatible with
* Home Theater System: WD TV Media Player, Xtreamer Media Player Streamer, HDTV,
* Portable Devices: iPad, iPhone, Apple TV, PS3, Xbox 360, Wii, Samsung Galaxy Tab, Amazon Kindle Fire, etc.
* Media Players: QuickTime Player, VLC, iTunes, Windows Media Player, Popcorn Hour Media Player, etc.
* Video Editing Software: iMovie, Final Cut Pro, Final Cut Express, Sony Vegas, Adobe Premiere, Avid Media Composer, Cinelerra, etc.
And MXF Video Converter has preset the optimized settings for the different output format and players. Users can feel free to specify the target files.
In conclusion, these two method can assist you play MXF files with ease. Just free download the MXF player program and have a try now.