Best Blu-ray Ripper Review – 2023
If you collect many 4K and full HD Blu-ray discs at home, in order to avoid the favourite Blu-ray disc is scratched by naughty children or play Blu-ray movies on own digital device, it's necessary for you to purchase a Blu-ray Ripper to rip, convert and backup Blu-ray discs. The article gives you top Blu-ray Ripper program reviews (2023). You can according the reviews to choose a best Blu-ray Ripper for you.
Blu-ray disc has been widely applied in a variety of ends, especially popular in Blu-ray and DVD movies. Many popular Hollywood movies have now become available in Blu-ray discs for high quality in both video and audio, just like the coolest special rental "Resident Evil: Afterlife" and the most intriguing "Merantau". Along with the widely use of Blu-ray discs, unavoidably some bad guys like scratches and dust might intrude and damage your treasured Blu-ray disc collections of your favorite Blu-ray movies or Blu-ray DVDs due to frequently use or improper preservation. Here I would like to provide some useful Blu-ray Ripper apps for keeping your precious Blu-ray DVD discs well preserved.
What's more, these user-friendly Blu-ray Rippers can backup and convert your Blu-ray/DVD discs to a proper formats for playing on all Tablets/Smartphones;   for watching on our Smart TVs, PlayStation 5, Xbox Series X, Apple TV; watch Blu-ray and DVD movies on DVD/Blu-ray player from USB port; or for playing on computer with the installed media player software. So, a suitable Blu-ray Ripper is needed.
What Blu-ray ripping and covnerting software is the best? We should consider from five aspects: Conversion Speed, Ripping, Customization, Cost, Help and support. Just pay attention to this article. Here, I list the Top 5 Best Blu-ray Ripper in 2023 according to Google Ranking and user popularity. From where, you can clearly learn about the advantages and disadvantages of each tool.
Top 5 Blu-ray Ripper programs in 2023
Top 1. Acrok Video Converter Ultimate (Windows | Mac)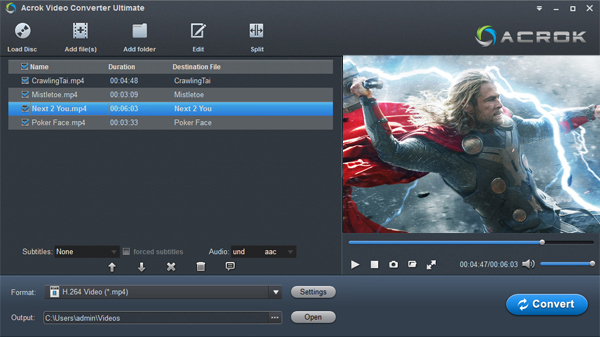 The good:
You can import all kinds of Blu-ray, DVD and video sources: BDMV folder, physical DVD, Blu-ray ISO, VIDEO_TS folder, DVD ISO and IFO file, protected Blu-ray Disc and unprotected Blu-ray Disc, MTS, MXF, MOV, MP4, AVI, RMVB, FLV, etc.
Using the "Full Disc Copy" feature, you can preserve the Blu-ray's original file structure, buakup Blu-ray disc to PC with one click. Using "Directly Copy" feature, you can backup Blu-ray/DVD main movie in original format without quality loss. Want to get a media player? This best Blu-ray ripping software can play any video on your computer with full screen. Just clicking the "Full Screen" icon.
While this best Blu-ray Ripper also support rip Blu-ray/DVD to Android, Apple and Windows device friendly formats (iPhone 13 Pro Max, Galaxy S22, iPad Air,   Apple TV, Galaxy Tab S7, Kindle Fire HD, Galaxy Note 20, Surface Pro 8, Sony Xperia Pro-I, Oppo Reno6, Motorola Edge 20, OnePlus 9 Pro, etc.), it takes longer. Supporting Dolby Digital 5.1/AAC 5.1 audio as a plus. You can choose to rip the built-in subtitles or embed your own, and you can select which audio tracks should be included; it's all beautifully simple and pleasingly fast. Moreover, it allows you to trim a specific duration from a movie while allowing you to split movie/divide a movie evenly into multiple segments.
For professional video ediitng software users, this Blu-ray ripping software can transcode Blu-ray, DVD, MXF/MP4/MOV/MTS footage and downloaded MKV/AVI/WMV/MP4/MOV movies for using in Final Cut Pro X, Premiere Pro CC, Vegas Pro 19, DaVinci Resolve 17, After Effects CC, Premiere Elements, Avid Media Composer, etc. You'll can edit your own videos smoothly.
If you want to protect your Blu-ray disc, save space, while maintaining the original quality, Acrok Blu-ray ripping software is the best program you are looking for, it can meet all your needs. For getting 3D video, this best Blu-ray Ripper can help you convert Blu-ray/DVD/Video to 3D video, let you enjoy 3D video on your 3D devices freely.
Plus, Acrok application takes advantage of the NVIDIA CUDA technology and AMD APP technology, and the conversion speed can be increased up to 10 times faster than ever before. Moreover, Acrok programs support adding *.srt and *.ass subtitles into video and merge into one file for output.
The bad: It lets you trim a specific duration from a movie, but not allows you to split movie/divide a movie evenly into multiple segments.
The bottom line: With decent decrypting capability, high quality video output and considerate backup solution and specific format templates for versatile PMP devices, Acrok Blu-ray Ripper ranks top on the Blu-ray ripping application list.
Editors' note: Acrok provides excellent customer support service, including lifetime free upgrade of product and technical support. Users can contact the support staff via email for help and suggestion. It is the best Blu-ray Ripping Software for macOS 12 Monterey/Windows 11.
Best Blu-ray Ripper 2023 – Trial Download:



Top 2. Pavtube Blu-ray Ripper Price: $49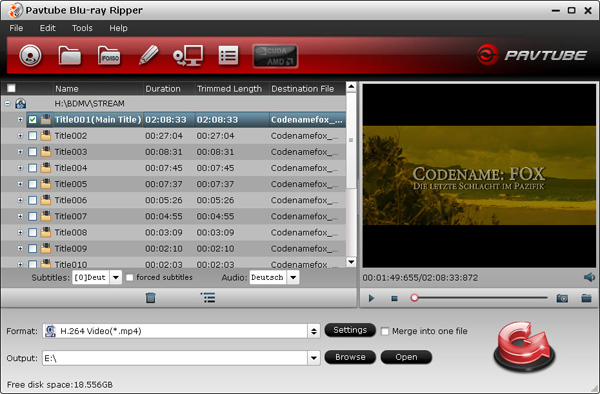 The good: When it comes to decrypting/hacking Blu-ray discs and DVDs, Pavtube is about as good as it gets. Pavtube Blu-ray Ripper well deserves its high reputation in decryption, and it handles not only AACS, BD+, Region code restriction, but also Cinavia protected Blu-rays. By taking advantage of CUDA accelerating, the conversion time is greatly shorted. If you want to rip a Blu-ray to MKV and keep 2 audio language and external subtitles, Pavtube would be your choice.
The bad: It is lacking of video converting feature. It does not support AMD APP encoding. Slow conversion speed and poor after-sales service are fatal.
The bottom line: Pavtube Blu-ray Ripper decrypts and rips Blu-ray title to various video files playable on next generation consoles.
No. 3. Leawo Blu-ray Ripper Price: $99.95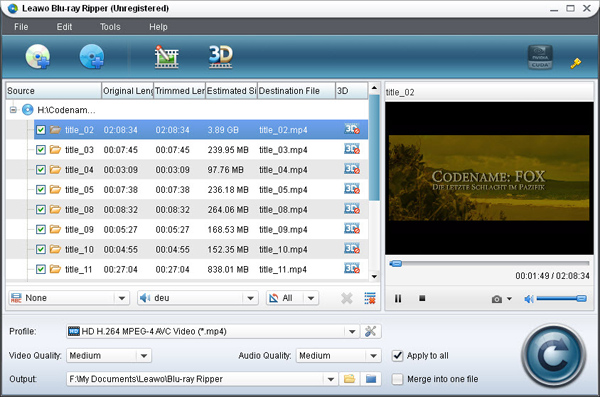 The good: Leawo Blu-ray Ripper comes with the popular feature to convert 2D to 3D. It can load multiple Blu-ray and DVD movies at a time. Leawo Blu-ray Ripper has stunning trim and crop feature- it trims movie more accurate and crops video more considerate than its competitors. If you have tons of movies waiting to rip and feel like having a Blu-ray Ripper queue them several movies for running overnight, Leawo is recommended.
The bad: Not recognizing Blu-ray ISO or forced subtitle (if there is). GPU encoding is restricted to Nvidia's CUDA only. There's no backup option for keeping original movie quality. And Leawo Blu-ray Ripper costs more than its alternatives.
The bottom line: Leawo Blu-ray Ripper is a nice tool for DVD and Blu-ray ripping.
Editors' note: We noticed that audio quality is noticeably degraded when ripping Blu-ray with Leawo Blu-ray Ripper.
No. 4. Xilisoft Blu-ray Ripper Price: $49.95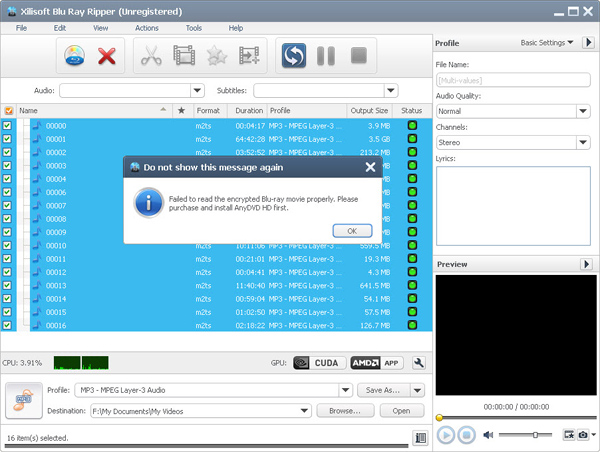 The good: Xilisoft Blu-ray Ripper can convert both standard Blu-ray videos and 3D Blu-ray videos to SD and HD video formats such as MKV, AVI, WMV, TS, etc. And it can preserve 3D effects when your source is 3D Blu-ray movie. NVIDIA CUDA and AMD APP graphic acceleration technology has been introduced to bring faster conversion experience.
The bad: The app does not decrypt Blu-ray protections and requires AnyDVD HD to be installed in advance for Blu-ray ripping. DVD ripping is not supported.
The bottom line: Xilisoft Blu-ray Ripper does not rip movies from Blu-ray Disc, but if you have had the Blu-ray cracked and saved onto computer hard drive, this tool would be helpful and useful for you to enjoy movies on iPod, iPhone, Apple TV, PSP, Xbox, Zune, NDS, Wii, and 3D smartphones.
Editors' note: This tool is not recommended unless when you want to convert 3D Blu-ray and keep 3D effect.
No. 5 Aimersoft Blu-ray Ripper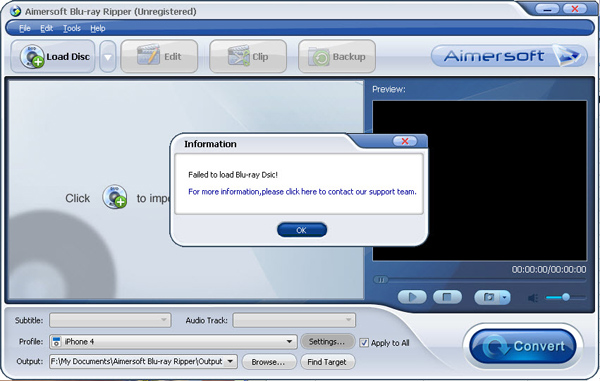 The good: By taking advantage of AMD APP, Intel Quick Sync Video and NVIDIA CUDA technology, Aimersoft Blu-ray ripper converts movies faster and saves your time. It rips home made Blu-ray/DVD into almost all popular video formats (MP4, AVI, M4V, MOV, etc) and features versatile format templates for smartphones, game consoles and MP3 players. Its "Backup" function let users envelop a whole Blu-ray movie into a MKV/DVD into VOB without quality loss. If you're looking for a way putting movies onto a HTC, Samsung, LG, Sony, or Motorola smartphone, the Aimersoft Blu-ray Ripper is worth checking out.
The bad: It does not support Blu-ray ISO or BDMV structure. There's no option for preserving only forced subtitles. Most Blu-ray Discs are not loading to the software.
The bottom line: Aimersoft Blu-ray Ripper handles DVD ripping as good as any other rippers, but the company really needs to work hard and step forward in Blu-ray Disc cracking. Other than that, Aimersoft Blu-ray Ripper is impressively fast and helpful.
Editors' note: It seems that Aimersoft does not handle Blu-ray AACS and BD+ encryption properly and the software keeps popping up a message that we should contact customer support during our testing- the customer support staff offers but apologize though.
Conclusion:
By reading the 5 Best Blu-Ray Rippers reviews in 2023, I guess you already have the answer. Obviously Acrok is the best. I suggest you download these software from the official website and try them out. Although they are similar on the surface, their functions are different. In addition to having the necessary functions, Acrok will automatically prompt for upgrading once the software is updated. You can use the software to crack the disc more stably.